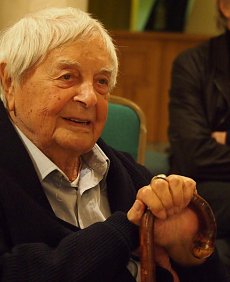 Y

uri Lyubimov

(30.09.1917–05.10.2014),

Stage Director


Yuri Lyubimov was a theatre director and actor, the founder of the Taganka Comedy and Drama Theatre, one of the reformers of the Russian theatre. In 1939, he graduated from the Shchukin Theatre School. From 1941 to 1946, he served in the Song and Dance Ensemble of the Ministry of Internal Affairs. After army discharge he joined the Vakhtangov Theatre, where he worked in 1946 to 1964, performing more than 30 parts. He also appeared in many feature films. In 1953, he became a teacher at the Shchukin Theatre School.

In 1963, Lyubimov produced Brecht's Der gute Mensch von Sezuan with his students. In 1964, he opened the Taganka Theatre with the same production. That was the start Lyubimov's rise as a director. At the Taganka Theatre he staged more than 100 productions, including Antiworlds, Galileo's Life, Tartuffe, The Dawns Here are Quiet /, /Hamlet, Pugachev, Crime and Punishment, Vladimir Vysotsky, Boris Godunov, Medea, Electra, Zhivago. Lyubimov's uncompromising productions attained fame not only in the USSR, but also all over the world; his theater was called "an island of freedom in the unfree country".

In 1984,Yuri Lyubimov was deprived of the USSR citizenship. During the years of his forced emigration he worked intensively in the West. His productions in Austria, the UK, the USA and Italy won the highest theatrical prizes. After his return to Moscow in 1988, Lyubimov decided to devote himself to the Taganka Theatre again, and he worked there until 2011. During the last decade spectators from all over the world saw his productions.

As a director, Yuri Lyubimov made many productions for opera houses. In 1975, he did his first opera production – Nono's Al gran sole carico d'amore on the stage of the La Scala Theatre. After that he did productions of more than 30 operas on the best stages all over the world: Paris National Opera, Covent Garden; opera theatres in Hamburg, Munich, Turin, Florence, Budapest, Chicago and others. One of his last works was a production of Borodin's Prince Igor at the Bolshoi Theatre (2013).

Yuri Lyubimov was a People's Artist of Russia, winner of many Russian and international prizes, honored citizen of several cities in the USA, Israel, Poland, Spain, Portugal, Finland, France and Japan, Honorary Doctor of several world-famous universities and academies, full member of the American Pushkin Academy of Arts in New-York, and holder of the 2nd-class Order For Merit to the Fatherland.

Productions